OKETA COLLECTION, which showcases the art collection of the Oketa couple, one of Japan's leading contemporary art collectors. In collaboration with ¥u-Gi-¥n, we will exhibit artworks from April 8th (Sat) to April 23rd (Sun) at Spiral Garden (Aoyama, Tokyo).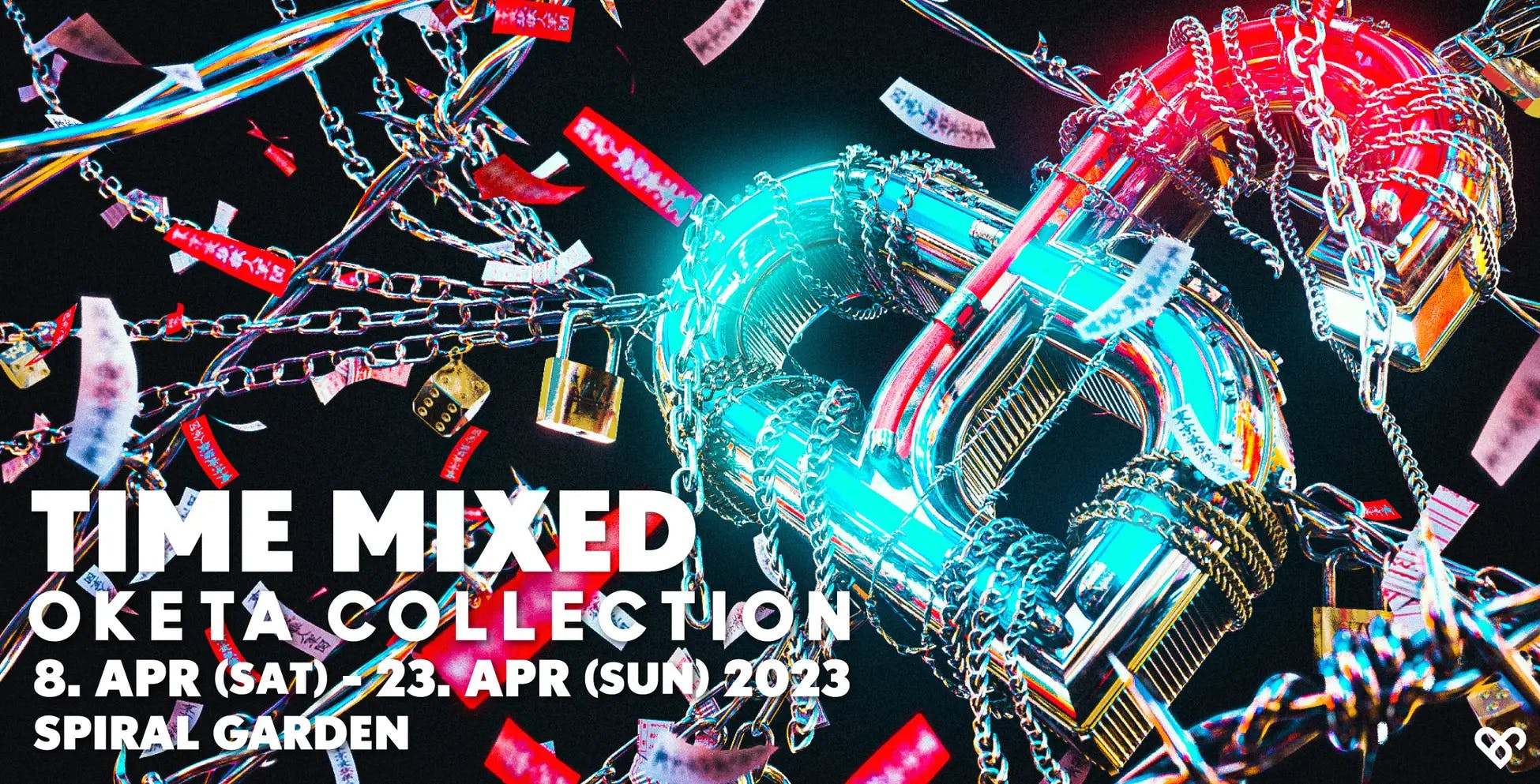 Celebrating the 5th anniversary of its public opening, OKETA COLLECTION's theme is "TIME MIXED." It will exhibit various art pieces ranging from antiques of the Muromachi period to contemporary and digital art that points to the future. The exhibition is unique for bringing together famous antique art and renowned contemporary artists from around the world.
Under the theme of experiencing the value of art beyond time and space, ¥u-Gi-¥n will express the landscape of the future with a digital art piece located in the center of the venue, utilizing hologram technology, and an LED wall will surround the venue. The key visual of this exhibition is created by founding team of "Yu-Gi Labs," which will help to integrate the concept and spirit of ¥u-Gi-¥n into the event.
At this art exhibition, "TIME MIXED: From the Muromachi Period to the Present and Future," art pieces that transcend time and genre, from antiques of the Muromachi period to contemporary artists, and digital art will be exhibited.
The theme is for people living in the present, where the past and future intersect, to appreciate art that has not changed since ancient times and to gain inspiration to create the future from the "TIME MIXED" art pieces that transcend time and genre.
At the venue, nearly 50 pieces, including modern antiques such as the "Lee Dynasty White Porcelain Pot," contemporary art pieces by prominent artists from 2018 to 2023, and cutting-edge digital art, will be exhibited.
■ Participating Artists (listed alphabetically by surname)
Daniel Arsham/Hebru Brantley/Joan Cornella/ESOW/FACE/Sam Friedman/Naijel Graph/井田 幸昌/Michael Kagan/加守田 章二/金巻 芳俊/川井 雄仁/北大路 魯山人/コムロタカヒロ/Mike Lee/Dan McCarthy/大平 龍一/岡部 嶺男/Jun Oson/Felipe Pantone/Christian Rex van Minnen/Jennifer Rochlin/Rafael Rozendaal/Josh Sperling/T9G/谷口 真人/友沢 こたお/矢入 幸一
Key Visual /Digital Art Work:Yu-Gi Labs
■ About OKETA COLLECTION
OKETA COLLECTION is an art collection of antiques and modern art pieces from around the world, collected by the Oketa couple.
The couple, who had been involved in the fashion business for many years, started collecting antiques and made a bold turn toward contemporary art by recognizing the works of Yayoi Kusama.
They intuitively identify typical works and highly accomplished works of each artist's most active period. Furthermore, they focus on artists who are currently gaining momentum.
Their sense of picking up works that strongly inspires them, like "love at first sight," overlaps with the personalities of artists and works that reflect the times, forming a unique collection.
■About Exhibition
Exhibition name: OKETA COLLECTION: TIME MIXED
Venue: Spiral Garden (Spiral 1F, 5-6-23 Minami-Aoyama, Minato-ku, Tokyo)
Exhibition period: April 8th (Sat) to April 23rd (Sun), 2023, 16 days without closing
Opening hours: 11:00 AM to 8:00 PM
Admission fee: Free
Organizer/Planning: OKETA COLLECTION(http://oketacollection.com/)
■Contact
UNITY ZERO(OKETA COLLECTION: TIME MIXED PR)
[email protected]